Wi-Fi
simply and quick
Network/SSID: kanthaus-gast
no password
This network offers you about 8 Mbps download and 2 Mbps upload. Your traffic will be routed through a Dutch VPN provider. Please make sure that you encrypt your traffic yourself appropriately or do not consider this network to be secure.
more secure, faster, printing, ...
Usernames
The usage of Multiple usernames allows us to serve different types of access. Grab the one that suits you!
| Username | Description | Examples |
| --- | --- | --- |
| normal | For all who simply need the Internet and maybe want to print something. | Smartphones, Tablets, Laptops of normal users |
| full | For all who need full access to the network and want to see other devices | LAN party |
| full-temp | When people temporarily need full access to the network | LAN Party with guests |
| vpn | Routed through the netherlands. Same like kanthaus-gast, but with encrypted Wi-Fi. (passwort is vpn) | Neighbors and Travellers on the street with more safety awareness |
| admin | Full access to all networking devices, including web interfaces of routers, switches and firewall | Network admins |
Installation: Linux / Networkmanager
Select the network kanthaus and click on "Connect"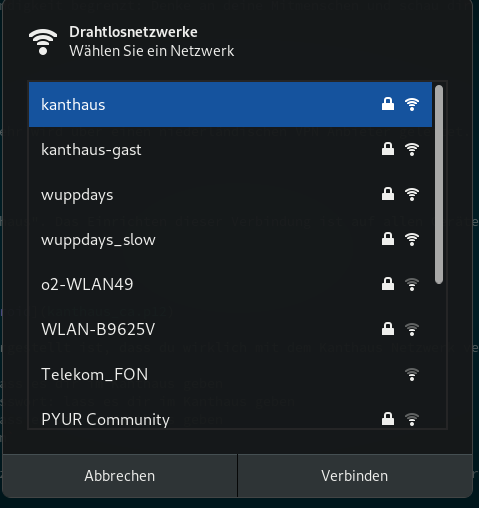 Set following settings
Tunneled TLS
Download and select the CA Certificate (maybe you need to right click -> save as)
MSCHAPv2
Select a username from the username table above (e.g. normal)
Password for all users you get by asking in the kanthaus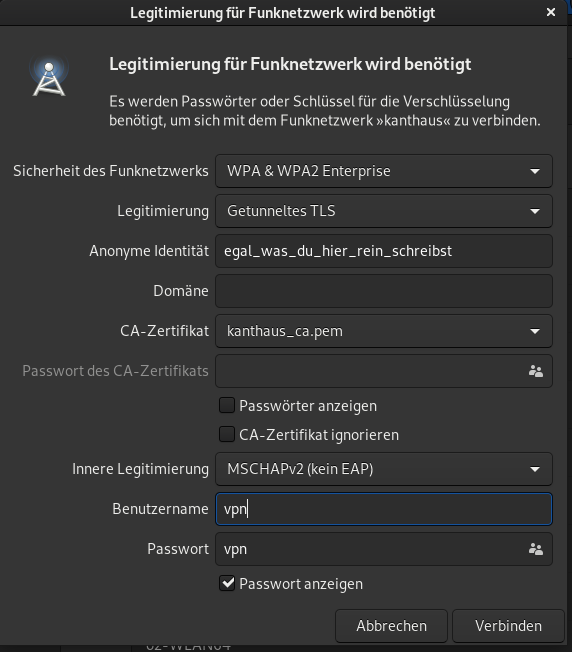 Installation: Android 9
Download the CA Certificate and save it somewhere on your phone
Settings -> Security & location -> Encryption & credentials -> Install from SD Card -> select the downloaded certificate
Use a name like "Kanthaus" and select "Wi-Fi" as the crential use

Connect to kanthaus, select the CA certificate and enter the credentials

Installation: Android 4.4
to be written... (simply never connect without the CA Certificate!)